Weather Perl Program
UPDATE 280135ZAUG2009: made some massive improvements!
So I found some inspiration to start coding today and ended up writing a pretty cool little Perl program that takes a latitude/longitude coordinate, goes through a large list of ZIP codes and finds the ZIP code nearest the provided grid coordinate. Then it uses the Weather::Google Perl module to find the current conditions for that grid.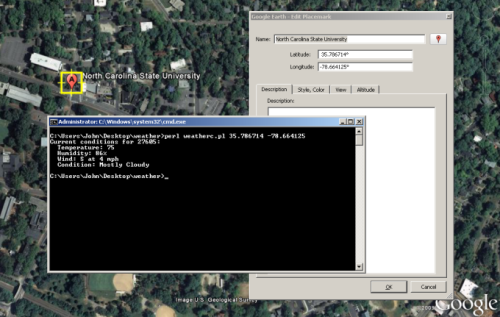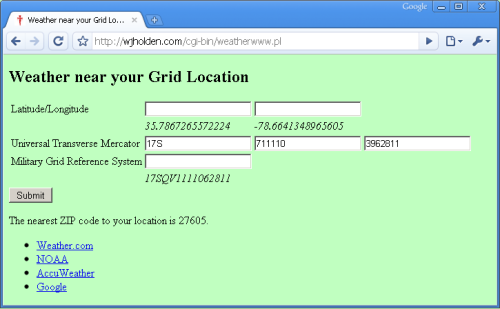 To Do:
Make it faster. Right now it loops through every single ZIP code no matter how far away they are. What I'm thinking is I will partition the US into chunks and do a quick guess of what region you fall into, then subpartition that as well. If I split the US into 10 chunks, then split those into 10 more subchunks, you should see a performance gain of almost 10^2.
Make it an AJAX web application. I keep looking at AJAX webapps and thinking how cool they look, then I try to follow the W3Schools manual and give up. Can it really be that hard, or am I just a born quitter? In any case, I want this to be a cool webapp.
Support MGRS/UTM coordiates. This means conversions, which shouldnt' be too hard, which means some loss of precision. The database I'm using isn't perfect anyways so it'll have to suffice.
Make the webapp mobile-friendly. My Blackberry doesn't like JavaScript, so the AJAX idea may fall by the wayside again in favor of pure Perl.
Follow-up 290125ZAUG2009:

Original Version: Download. I use Strawberry Perl on my Windows computer. You'll probably need to use CPAN to install Weather::Google and Text::CSV::Simple.

Second Version: Download. This one requires Geo::Coordinates::UTM and maintains the dependencies from the previous program. This distribution also includes new, smaller databases and the Perl program I wrote to generate those small databases.

Chris Michels page on latitude/longitude distance calculation was helpful in creating this program.